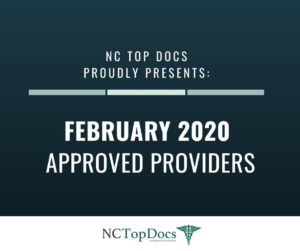 NC Top Docs and NC Top Dentists are proud to feature the following February 2020 approved providers.
NC Top Docs Include:
Cardiology
Dr. Reza E. Ershadi
Dr. Glen A. Fandetti
Dr. Rony L. Shammas
Critical Care/Pulmonology
Endocrinology
Dr. Tracie C. Farmer
Dr. Adam F. Spitz
ENT (Otolaryngology)
Dr. Mark T. Emery
Dr. Eileen M. Raynor
Family Practice
Dr. Rickey Baskett, Jr.
Dr. Harriet Davis
Dr. Henry R. Emery Jr.
Dr. Courage O. Emokpae
Dr. Stefanie L. Etienne
Dr. Mark O. Speight
Dr. Craig Stevens
Gastroenterology
General Surgery
Dr. Timothy W. Capps
Dr. Paul D. Colavita
Dr. David G. Draughn
Dr. Barbara Z. Dull
Dr. Lon Eskind
Dr. Ernest Evans
Gynecology
Internal Medicine
Dr. Kelli Dunn
Dr. Wagdy A. Elmahdy
Dr. Warren Murray, Jr.
Nephrology
Dr. Robert B. Dunmire III
Neurological Surgery
OB/GYN
Dr. Bethany E. Beasley
Dr. Joshua Counihan
Dr. Richard D. Duncan III
Ophthalmology
Orthopedic Surgery
Dr. William Eward
Dr. Karl M. Schweitzer, Jr.
Dr. David A. Thompson
Pediatric Gastroenterology
Pediatrics
Dr. Jonathan E. Crowder
Dr. Patrick S. Edwards
Dr. Brian H. Eichner
Dr. Elizabeth Elmore
Dr. Allison Engen
Plastic Surgery
Reproductive Medicine
Urology