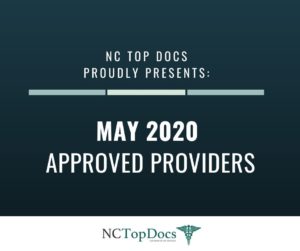 NC Top Docs and NC Top Dentists are proud to feature the following May 2020 approved providers.
NC Top Docs Include:
Allergy, Asthma & Immunology
Dr. Michael A. Lapuente
Dr. Frank J. Lichtenberger III
Dr. Sean R. Lucas
Dr. Steven J. McEldowney
Cardiology
Dr. Alan Kirollos
Dr. Daniel Koehler
Dr. Lai C. Kok
Dr. KamalKumar Kolappa
Dr. Olujide G. Lawal
Dr. Huajun Liu
Dr. Jimmy Locklear
Dermatology
Dr. David R. Lane
Dr. Heidi C. Mangelsdorf
Dr. Michael J. Masters
Endocrinology
ENT (Otolaryngology)
Dr. William F. McGuirt Jr.
Family Practice
Dr. Mark E. Kinter
Dr. Eugenie M. Komives
Dr. Ramesh B. Konduru
Dr. Susan E. Ladd-Snively
Dr. Zane Ian Lapinskes
Dr. William R. Laurence Jr.
Dr. Susan S. Lester
Dr. Marjorie S. Levreau
Dr. Thomas F. Lindsay
Dr. Marina M. MacNamara
Dr. James S. Manning
Dr. Matthew T. Manzo
Dr. Stacey W. Martin
Dr. Phillip McGowen
General Surgery
Dr. Stuart J. Knechtle
Dr. Eric D. Lance
Dr. Michael D. Liniger
Dr. Carl J. Lowe
Dr. Rodney S. Lutz
Dr. Timothy W. McGuire
Gynecology
Dr. Paula S. Lee
Dr. Maribeth Loynes
Internal Medicine
Dr. Andrew B. Kindel
Dr. Jennifer L.King
Dr. Lindsay Y. King
Dr. Emily L. Kingsley
Dr. David N. Kiragu
Dr. Benjamin Kirk
Dr. Kenesha Kirkland
Dr. Jan Kriska
Dr. Benjamin Kunesh
Dr. Bhavani Ladadapti
Dr. Allen Lloyd
Dr. Magdalene Marfo
Dr. Michael J. Martin
Dr. Andrea M. McGrath
Nephrology
Dr. Eugene Kovalik
Dr. Munsoor N. Lateef
Dr. Ruediger W. Lehrich
Dr. Wolfgang E. Lohrmann
Dr. John A. Manley
Neurological Surgery
Dr. Michaux R. Kilpatrick
Neurology
Dr. Dmitri Kolychev
Dr. Daniel Todd Laskowitz
Dr. Mark Letica
OB/GYN
Dr. Charles Lampley IV
Dr. Michelle D. Langaker
Dr. Tracy M. Larson
Dr. Kelly H. Leggett
Dr. Nancy A. MacLaurin
Dr. Connette McMahon
Oncology / Hematology
Dr. Mary Ann Knovich
Dr. Timothy Kuo
Dr. Lance K. Lassiter
Dr. Richard D. Lopez
Ophthalmology
Dr. Nicola Kim
Dr. John A. Kulits
Dr. Amit Kumar
Dr. Robert P. Laborde
Dr. Jonathan C. Lowry
Orthopedic Surgery
Dr. Eric J. Lescault
Dr. Stephen D. Lucey
Dr. Neil R. MacIntyre III
Dr. Roy A. Majors
Dr. Peter G. Mangone
Dr. James T. Marino
Dr. Michael M. Marushack
Dr. Keith M. Maxwell
Dr. Calvin M. McCabe
Pain Management
Pediatric Endocrinology
Pediatrics
Dr. James M. Kidder
Dr. Stephen C. Lods
Dr. Laurie P. MacDonald
Dr. Hans Mah
Dr. Gary R. Maslow
Dr. Jocelyn Mason
Physical Medicine / Rehabilitation
Plastic / Cosmetic Surgery
Radiation Oncology
Dr. Grace J. Kim
Dr. David G. Kirsch
Dr. William R. Lee
Dr. Yatwah Leung
Dr. Yvonne Mack
Dr. Patrick D. Maguire
Urological Surgery
Dr. Jay Levy
Dr. Phillip G. Marks